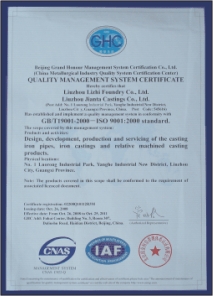 Asia Development (HK) Limited, ADL, has been the leading importer and distributor in HKSAR specializing in supplying high quality piping products to the drainage and plumbing industries.
ADL is the sole authorized importer and distributor of "Diamond" Brand Cast Iron Pipes and Fittings in HKSAR. At the same time, ADL is the sole registered user of the registered trademark Diamond Brand in HKSAR.
With an extensive warehousing facility in Yuen Long, Hong Kong, ADL is capable of maintaining adequate stocks and providing speedy delivery to meet general market demand.
Quality System
Products contained in this catalog are manufactured and supplied under an ISO 9001 certified quality management system.
Quality Policy
ADL is a leading importer, distributor of pipes and fittings for potable water supply and drainage applications. Our objective is to better the quality of our products and sales services through the process of continuous improvement in order to meet the requirements of our customers.

Our products have also undergone tests performed by HKAS accredited laboratories under HOKLAS.
They are proved to comply with the requirements of Buildings Department PNAP 282 – Cast Iron Pipes for Drainage Works.